Getting the life you want takes planning and organization. That's where using a planner comes to play. So I've put together my fav planners for women for you to select the best planner for you, your business and your lifestyle.
If you want to accomplish your goals, have time for your family and friends, be a wife/girlfriend, mother, sister, cousin and aunt, whilst still having time to take care of yourself, well you need something to help you plan, track and stay on top of it all.
So don't just wing it in 2021. Plan it.
Planners For Women
That's where planners come into play. And let me tell you there is a planner for every type of woman, for every stage of life you just have to find the right fit for you.
The type of planner a busy mum of 3 needs will be different from the planner a single business owner with a busy social life would need.
So to help you select the best planner for your lifestyle I've selected 18 of the best planners for women on the market.
The Best Overall Planners for 2021
Overall Planners are planners that include weekly, monthly and daily planning as well as goal setting, habit tracking, project planning and much more.
These planners help you to achieve goals, become more productive and get organised in every area of your life.
1: Deluxe Life Planners
So I've been using planners for years but never could quite find one that had everything I wanted, so would often use 2-3 different planners for different aspects of my life. So this year I decided to just create my own printable planners and start building my own planner.
This has lead me to create my own printable planner brand Deluxe Life Planners. So now I can printout and build my own planner to incorporate both my personal life and business needs.
So this is for you if you often find it difficult to really get everything you need in one planner.
What's Available:
Goals Planners
Monthly Planners
Weekly Planners
Daily Planners
Habit Trackers
Meal Planners
Task Lists
Project Planners
Budget Planners and Expense Trackers
Note Pages
Life Planners
Gratitude Planners
Fitness Planners
Business Planners
Blog Planners
Social Media Planners for Instagram, Facebook, LinkedIn and Pinterest
2: Inkwell Press 360 Disc Planner
This the perfect overall planner as you can customize it to fit your needs. Not only can you customize the look of the 360 Disc Planner, but you can also select the inserts you want.
What's Inside:
Monthly Planners
Weekly Planners
Daily Planners
Goal-setting planners
Meal Planners
Project Planners
Habit Trackers
Priority Lists
Note Pages
3: Goldmine & CoCo
If you love the idea of building your own planner and want inserts that you might not find easily elsewhere then try Goldmine & CoCo. They have unique as well as traditional inserts
What's Available:
Weekly Devotional
Daily Tracker
TV Show Tracker
Hourly Planner
Productivity Planner
Cleaning Planner
Weekly & Nightly Routine Planner
The Best Weekly & Daily Planners
Choosing a planner can be hard. For me I've discovered the easiest way to start to narrow down my chooses is by deciding how I like to plan. And for me, I like to start with a weekly overview and then I like to plan my daily schedule in detail, so I go for planners that not only have a weekly layout but those that have a great daily layout.
So how do you like to plan?
4: Guided Enneagram Planner
If you want to plan your weeks in alignment with who you are then these guided enneagram planners are for you.
What's Inside:
Self-dated, type-specific six-month weekly and monthly layouts
Six-month Looking Forward section complete with monthly affirmations
Tools to Thrive section made just for your type
Built-in notebook featuring 60 lined pages for all of your ideas, notes, and lists
5: Page Eleven Weekly Planner
This planner is great if you manage a busy life and love to plan your month and weekly schedule as well as your meals, fitness and finances.
What's Inside:
Annual Goals Tracking Sheet
Monthly Inspirational Quotes
Monthly Bill Tracker/ Financial Goals Sheet
Monthly Gratitude Log
2 Page Monthly Spreads
2 Page Weekly Spread

This Week's Motivation
Note to Self
Meal Plan
Reminders
Exercise Tracker
Weekly Goals
6: Day Designer Daily Planner
Designed to help tackle your days and get organised and get more done. This is perfect for Moms and busy women.
What's Inside:
Daily planning pages with hourly scheduling
Today, To-do, Dinner, Gratitude & Top 3 to-do's
Goalsetting Worksheets
Daily Inspirational quotes
Combined Weekend Pages with a weekly overview
Cold foil sticker sheets
Monthly Overviews
Best Personal Planners
These personal planners are all about you. You managing your time, your goals and increasing your productivity.
These planners are perfect for women you are focused on achieving their goals and don't want or need a planner to manage their family.
7: Ponderlily Planners
These great little planners will empower you to take control of your time and implement self-care. And it's Eco-Friendly.
What's Inside:
Monthly Roadmap
Monthly Check-ins
Experiences Pages
UK & US Holidays
Weekly Planning Pages
Monthly Planning
8: Inspired Year Planners
This planner is for all the goal diggers out there. It's time to find balance, dream big and get your busy life under control.
What's Inside:
Big dreams and heart-centred goal-setting pages
Beginning of year goal-setting (10 pages to start the year off right)
Mid-year goal review
Quarterly work+life balance charts
Monthly & weekly space to plan and track goal progress
Daily to-do lists
Year-in-review reflection prompts
12-week goals broken down by season
Full 2-page spread for each month and week
Hourly scheduler
Holidays included
Moon phases
Yearly overview calendar for 2020 & 2021
Extra notes pages
Tabbed months for easy reference
Book lies flat
9: Dailygreatness Success Yearly
If you're looking to achieve your personal goals, become more focused, organised and positive, then this is the Planner for you.
What's Inside:
Monthly overview calendars, undated
Day-to-a-view
6 Daily Pages plus a Weekly Review & Weekly Planner on the 7th day
52 undated weeks
Best Planners For Female Entrepreneurs
It's so easy to become overwhelmed and overworked as a woman in business, while also trying to be all things to everybody in your life.
You need the right planner to help you set the right priorities for your business and achieve your business goals.
10: Perfectly Planned™ 2021 Planner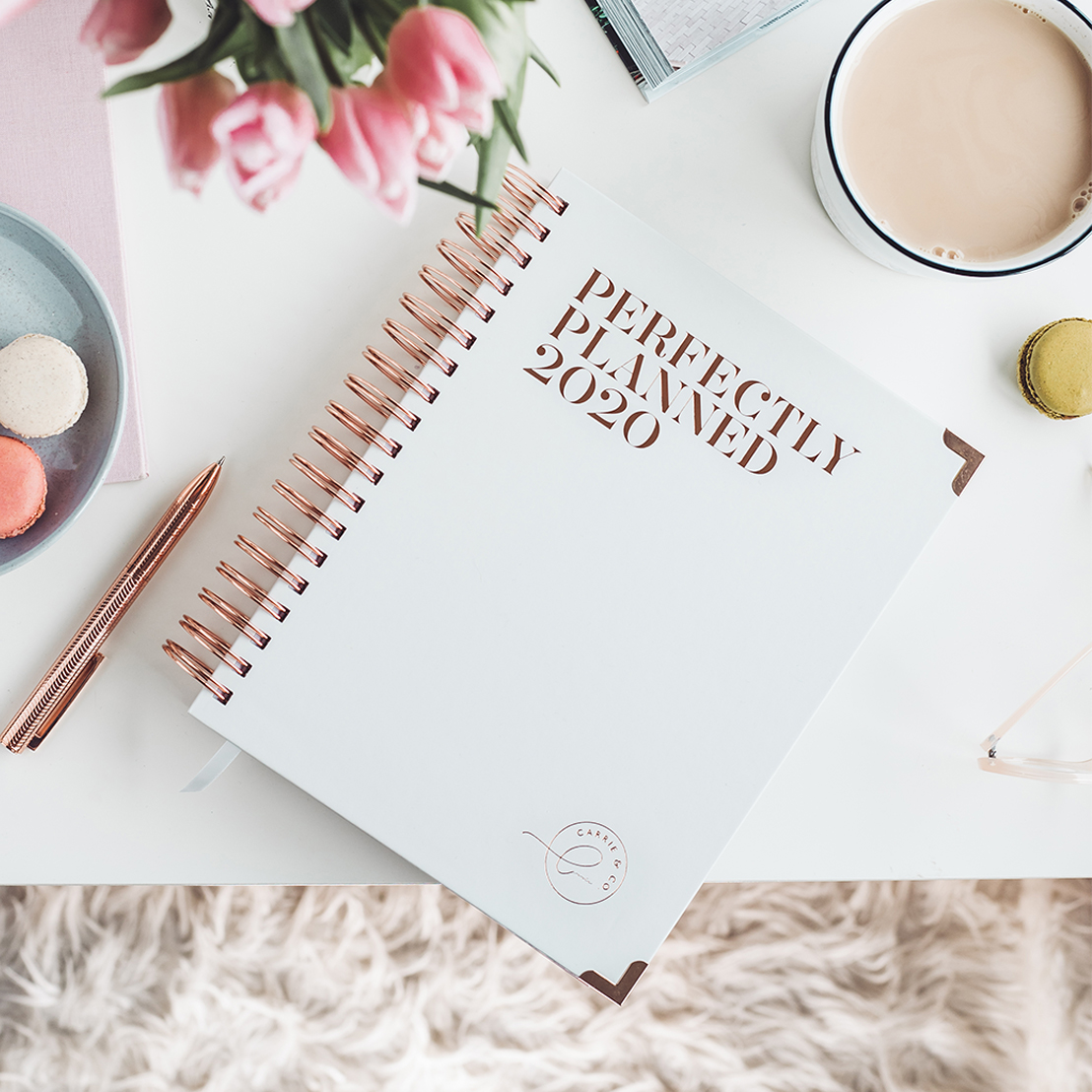 This planner is perfect for setting goals in your business and tracking your goals to ensure you're making progress every day and every month.
What's Inside:
Quarterly Goals Planning Pages
Monthly Planning & Overview Pages
Weekly Planning Pages
Daily Planning Pages
Monthly Review Page
Year in Review Page
Business Goals Pages
Year Overview
11: Desire Map Planner
If you want to clarify how you want to show up to life—everyday then this is the planner for you. You can include it as part of your morning ritual.
What's Available:
Weekly Planners
Daily Planners
Undated Planners
12: Dailygreatness Yearly Business Planner
Perfect for entrepreneurs, business owners, and career-focused women. It will help you plan a successful business and career.
What's Inside:
Yearly Goal Setting System
Budget and Financial Worksheets
Daily Mindset Questions
Weekly + Quarterly Check-ins
Yearly Review
Week-to-a-view
6 Daily Pages plus a Weekly Review & Weekly Planner on the 7th day
Monthly overview calendars, undated
The Best Planner For Busy Women
These planners are perfect for busy women managing both their lives and the lives of their family. So if you're CEO of your family as well as your business then these are for you.
13: 2021 STARTplanner Annual Dated
This planner is perfect for busy women who wants to prioritise goals, manage their time, save money and organise their home life.
What's Inside:
Daily Overview
Weekly Overview
Goal Tracking
Monthly Check-ins
Weekly Lists
Daily Tracking
Financial Planning
14: Perfect Planner Co Family Organiser
This is the perfect planner for the busy woman with a busy active family looking to increase time management, organise the kid's activities, plan holidays, Christmas planning and money management.
What's Inside:
Goal Planning
Christmas Planning
Holiday Planning
Diary Pages
15: INSPIRE NOW JOURNAL
This planner is an excellent all-round planner for busy on the go women.
What's Inside:
Daily Productivity Journal
undated weekly pages
26 weeks daily pages
Goal Setting and Guide
Weekly Planning & Reflection
Daily Pages with Inspirational quotes and Gratitude
Health & Well-being Action Trackers
Self-Development Trackers
Financial Management, Fitness, Travel Planner, Project Management Pages
Best Goal Setting & Productivity Planners For Women
All planners help you increase productivity on some level by helping you get organised. And most of the planners I've mentioned above also include goal setting and planning, however, the following are specifically all about helping you achieve your goals and increase productivity, not just getting organised.
16: BestSelf Self Planner
This six-month life planner is designed to help you manage your time and plan your life. And because it is undated you can start anytime.
What's Inside:
Quarterly Reflection
6 Month Bucket List
Monthly Habit Tracker
Weekly Time-Blocking
6 Project Plan Sheets
17: Passion Planner
Follow your passions and make them a reality with the passion planner.
It includes an appointment calendar, goal setting guide, journal, sketchbook, gratitude log & personal and work to-do lists.
What's Inside:
Passion Roadmap
Quotes & Challenges
Personal & Work To-Do List
Weekly & Daily Focus
Monthly Reflection
Annual & Monthly Reviews
18: LUX Productivity Planner
Designed to help you get organised, increase your productivity levels and happiness.
What's Inside:
Instructions on how to use it for best results
Inspirational colour quotes page
Daily, Weekly and Monthly sections
2 Bookmark ribbons
Lay-Flat Spine
Time, Finance & Project Management tools
Bullet Journal
The 18 Planners for Women detailed above can help you organise your life, achieve your goals and reach success with less stress and overwhelm. So which planner will you choose?