Planning is an essential part of any woman's life, especially if you're running a business as well. Getting the life you want also takes planning and organization.
And planners serve as a tool to help you stay organized.
With so many planners on the market, it can be tough to find one that suits your needs.
So I've put together my fav planners for women for you to select the best planner for you, your business and your lifestyle.
The planners on this list will help you set goals, organize your time, and plan projects.
If you want to accomplish your goals, have time for your family and friends, be a wife/girlfriend, mother, sister, cousin and aunt, whilst still having time to take care of yourself, well you need something to help you plan, track and stay on top of it all.
So if you're ready to make 2022 the best yet, let's get going!
The Different Types of Planners For Women
There are many different kinds of planners on the market, from physical paper planners to digital planners.
Physical Planners – These are the tried and true planners. They come in different shapes and sizes, but all have a paper format. You can buy physical planners that come with pre-printed content or you can get blank ones and fill them in yourself.
Printable Planners – These types of planners are great for people who like to decorate their planners themselves, and can be found online on sites such as Etsy. They're perfect if you want something that's aesthetically pleasing while still giving you all the planning tools you need in one place. You can print these off as many times as you like.
Digital Planners – These types of planners are great for people who don't want to carry around a lot of paper or decorate their planner themselves, and can be stored on your phone or tablet easily wherever you go. Many apps also allow syncing between devices so you never miss an entry again!
As you can see, there are plenty of options to choose from when it comes to planners. The best way is to try out a few different types until you find the one that works for you.
The more comfortable you are with your planner, the less stressed you'll feel about planning and achieving what's important to you.
The Best All-in-One Planners for 2022
Overall Planners are planners that include weekly, monthly and daily planning as well as a mixture of goal setting, habit tracking, project planning and much more.
These planners help you to achieve goals, become more productive and get organised in every area of your life.
It's important to choose a planner that fits your life, so if you're not sure what kind of planner is the best fit for you then start with an overall planner.
Ivory Paper Co All-In-One Planner
Modern women need a planner that does more than one thing. You're balancing your job, business, relationships, and motherhood. You're doing it well.
Ivory Paper Co Planner lets you have an overview of your day, week and month all in one place. The planners they make are for six to eight months. They hold all the important things and they don't weigh much so you can bring them with you.
Now you can even personalize your cover!
What's Available:
Daily planner pages with to-dos & scheduling
Weekly planner spread for full weeks planning.
Monthly planner pages to keep track of events.
Personalize your hardcover.
Choose your start date.
Choose the length for example 6 months or 8 months
Erin Condren LifePlanner™ Softbound
Erin Condren's LifePlanner™ is a planner that can help you reduce stress, get organized, and achieve your goals. Left-handed and right-handed people love this agenda.
It is a flat lay design, so they can write on it easily. This planner is perfect for people who want smooth, seamless, and portable planning.
This planner has a beautiful cover made out of vegan leather, and it is designed with signature details. You can plan for weeks, months, and for the year. There are also pages to write notes on.
What's Inside:
Yearly, Monthly & Weekly Planning
Mini months
Monthly quotes
Monthly notes and productivity pages
Dated monthly and vertical weekly spreads
Contacts page
Additional notes in the back
Note Pages Throughout
Kokonote Official The Self Love Planner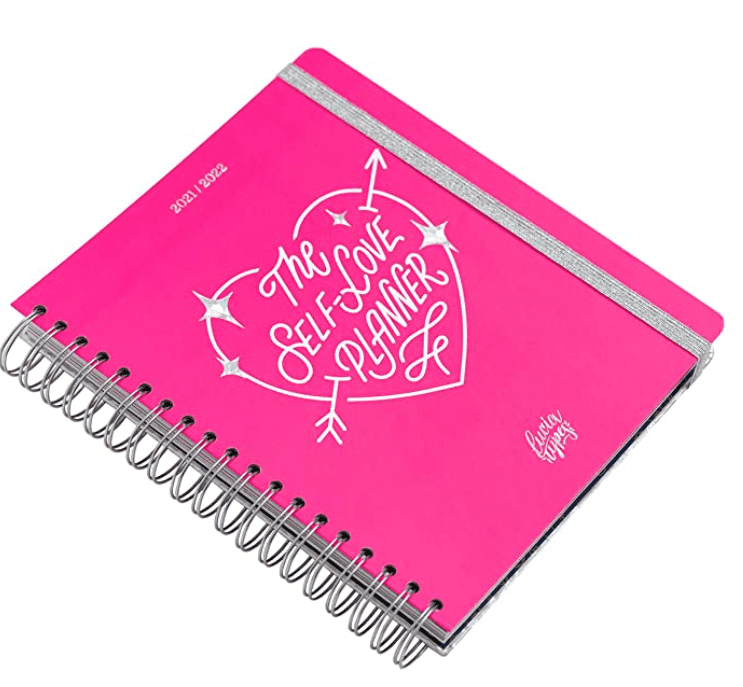 This diary is small enough to put in your bag or backpack. It has plenty of space for you to write down what you need to do.
It's time to plan and organise. Let's make the year 2022 a great one with this fantastic weekly planner diary. Carry it with you in your backpack, school bag or tote bag!
This book has a cover that can't be scratched. It has illustrations and it has a band to close the book. Comes with space for schedules, personal data, timetables, public holidays info, birthdays, personal goals, travels, and 16 dotted pages for notes plus it Includes 2 pages full of stickers to customize this cute weekly planner.
What's Available:
Schedule
Monthly Planning
Monthly Goals
Travel Planner
Notes
Stickers
Inkwell Press 360 Disc Planner
This is the perfect overall planner as you can customize it to fit your needs. Not only can you customize the look of the 360 Disc Planner, but you can also select the inserts you want.
What's Available:
Schedule
Monthly Planning
Monthly Goals
Travel Planner
Notes
Stickers
The Best Weekly & Daily Planners
Choosing a planner can be hard. I have discovered the easiest way to start to narrow down my choices is by deciding how I like to plan.
I like to plan my schedule for the week in detail. The planners that I use have a weekly layout and a daily layout.
So how do you like to plan?
Day Designer Daily Flagship Planner
The Original Flagship Edition Daily Planner helps you find balance, focus, and productivity. Designed to help tackle your days and get organised and get more done.
Each planner has beautiful designs, goal setting worksheets, and pages for planning. This is a perfect planner for women who want to do more in their life.
What's Inside:
Daily Planning Pages with Hourly Scheduling from 5 am to 9 pm
Today, To-Do, Dinner, Gratitude, Top 3 To-Do Prompts, Notes and more!
Goal Setting Worksheets to Help You Achieve Your Big Dreams
Daily Inspirational Quotes
Combined Weekend Pages with Weekly Overview
Gold Foil Dated Monthly Tabs
Day Designer Original Weekly Planners
Weekly Flagship Planners help you see what you are doing each week. You can plan your time for productivity, balance, and organization.
PLUS, this weekly planner has extra pages so you can plan your days. One is for planning and one is for notes. These will help you with a very busy day.
The Day Designer is a planner where you put your schedule and plan. It has extra pages for very busy days. Perfect for busy professional women and moms!
What's Inside:
Annual Goals Tracking Sheet
Monthly Inspirational Quotes
Weekly Planning Pages with Daily To Do's
Today, To-Do, Top 3 To-Do Prompts, Notes and more!
Additional Tab with 46 Non-Dated Today & To Do™ Pages with Hourly Scheduling from 5 a.m. to 9 p.m.
Additional Tab with 19 Notes Pages
Additional Tab with 12 Expenses Tracker Pages, 2 Favorites Lists, 2 Gift Idea Pages, 2 Thank You Note Records, 2 Packing Checklists, 2 Entertaining Checklists and 4 Bucket Lists!
Goal Setting Worksheets to Help You Achieve Your Big Dreams
Weekly Inspirational Quotes
Combined Weekends on Weekly Layout
Goldmine & CoCo DAILY SPIRAL PLANNER
If you are having trouble with remembering what to do every day, you are not alone.
This 6 Month Undated Daily Spiral Planner is a good way to help you remember your daily to-do list. You can also use it to write down your thoughts and feelings.
The Goldmine & CoCo DAILY SPIRAL PLANNER is a great way for you to keep track of your daily routine, goals, and tasks! This planner helps with time management so that you can be more productive each day.
What's Inside:
Removable Covers
Affirmations to Carry You Throughout the Day
Monthly, Daily and Notes Tabbed Dividers
Dot Grid Notes Section
12 Undated Months
6 Months Worth of Undated Daily Pages
A Look Ahead Section Behind Every Month to Map Out the Month Ahead
A Gentle Self Care Reminder
Ivory Paper Co Daily Planners
The Daily Planner is a way to help you accomplish more and stay focused. You can use it on days when you feel there are just too many things you need to do.
This planner will help you to stay on top of your day. It has a page for each day of the year plus pages for the weekend. You can put tasks and goals on these pages.
What's Inside:
One Dedicated Page for Daily Spread
Daily Page with "Gratitiude" and "Due Today" Sections
Daily Page with Schedule Area From 6am to 10pm
Sturdy, Silver Twin Loop Wire Binding
Silver Protective Book Corners
12 Month Planner
Planning For Everyday Of The Year
Monthly Planner Pages For Each Month
To-Do Lists & Hourly Schedule
Daily Boxes for "Due" & "Gratitude"
Hydration & Meal Tracking For Weekdays
Choose Your Start Month
Personalize Your Hard Cover
Page Eleven Weekly Planner
This planner is great if you manage a busy life and love to plan your month and weekly schedule as well as your meals, fitness and finances.
What's Inside:
Annual Goals Tracking Sheet
Monthly Inspirational Quotes
Monthly Bill Tracker/ Financial Goals Sheet
Monthly Gratitude Log
2 Page Monthly Spreads
2 Page Weekly Spread
This Week's Motivation
Note to Self
Meal Plan
Reminders
Exercise Tracker
Weekly Goals
Best Personal Planners
These personal planners are all about you. You can use them to be more productive and manage your time.
You can also use them to keep track of your daily tasks and goals, write down thoughts and feelings or just doodle.
These planners are perfect for women who want to achieve their goals by focusing on their values and purpose.
Guided Enneagram Planner [Edition II]
If you want to plan your weeks in alignment with who you are then these guided enneagram planners are for you.
What's Inside:
Self-dated, type-specific six-month weekly and monthly layouts (upgraded for Edition II!)
Six-month Looking Forward section complete with monthly affirmations (upgraded for Edition II!)
Tools to Thrive section made just for your type
Built-in notebook featuring 60 lined pages for all of your ideas, notes, and lists
Legend Planner
Legend Planner is a tool that will help you figure out what you want in life. You can create your own vision, figure out your short-term and long-term goals, and break them down to make sure they are part of every area of your life.
Learn to prioritize by using monthly and weekly priority sections to focus your time on important goals. Use the monthly calendar and weekly planning sections to schedule appointments and deadlines.
The perfect productivity and time management planner for heart-centred women!
What's Inside:
Big dreams and heart-centred goal-setting pages
Beginning of year goal-setting (10 pages to start the year off right)
Mid-year goal review
Quarterly work+life balance charts
Monthly & weekly space to plan and track goal progress
Daily to-do lists
Year-in-review reflection prompts
12-week goals broken down by season
Full 2-page spread for each month and week
Hourly scheduler
Holidays included
Moon phases
Yearly overview calendar for 2020 & 2021
Extra notes pages
Tabbed months for easy reference
Book lies flat
The Classy Planner
If you are feeling stressed, use The Classy Planner to stay focused on what is important to you. Use the daily and monthly planner to track your progress and stay on track.
Made especially for women who like to get organised or need to get organised.
This planner is for women who want to live a productive life. It has pages with dates, notes about important events, and motivational quotes. There are also stickers included if you want to decorate your planner!
What's Inside:
Daily Pages
Master Plan
Monthly Calendar
Monthly To-Do List
Monthly Habit Tracker
Project Planner & Bucket List
Birthdays & Anniversaries Tracker
Stickers
Ponderlily Planners
Ponderlily is a company that helps you to plan, pursue and reach the things that matter most in life. Designed to encourage you to dream fearlessly, set meaningful intentions, and take bold actions.
These great little planners will empower you to take control of your time and implement self-care. And it's Eco-Friendly.
Perfect for busy mums and entrepreneurs.
What's Inside:
Monthly spread on 2 pages
Weekly spread on 2 pages (Monday-start)
240 planning pages
30 perforated lined pages for notes
Space for intentions, to-do list, gratitude, and notes
Reminders to recharge
Gatefold page for inspiration
Pocket in the back cover for keepsakes
Business card insert
Best Business Planners For Female Entrepreneurs
It's easy to get overwhelmed and overworked as a woman. You're trying to be everything to everybody in your life, so you have to be organised.
You need the right planner to help you set the right priorities for your business and achieve your business goals.
Perfectly Planned 2022
This planner is perfect for setting goals in your business and tracking your goals to ensure you're making progress every day and every month. It has space for your weekly, monthly and quarterly goals plus a section to track your progress.
What's Inside:
Your annual success plan
Annual calendar view
Quarterly planning pages
Monthly plan & review
Weekly plan of action
Your top 3 daily goals.
6am to 10pm daily schedule.
Daily motivational quotes.
A goal box for 2022.
Dailygreatness Yearly Business Planner
Dailygreatness Business is a planner for entrepreneurs and business owners. It helps you plan your business and be more organized. It has a morning mindset section, a yearly goal planning system, weekly and quarterly check-ins, and yearly reviews.
You can use it for a new business or an existing one to be more organised and inspired.
Perfect for founders, entrepreneurs, business owners, sales professionals, CEOs, or career-focused women.
What's Available:
Yearly Dated for 2022
Business Strategy Worksheets
Comprehensive Yearly Goal Planning System
Weekly, Quarterly and Yearly Check-Ins
Weekly and Quarterly Goal Planners
90-Day Business Challenges
Finance Manager and Budget Worksheets
Weekly Action Planners
Inspirational Quotes
MY PA 2022 Business Planner
This Business Planner has everything you need to reach your business goals. It can also help you stay inspired and track your health and fitness. There is a place in the book to store all of your ideas too.
What's Inside:
2022 Business & Life Planner
Monthly/ Weekly/ Daily Goal Setting
Comprehensive Business/Marketing Planner
Monthly Social Media Plan
Positive Habit Tracker
Weekly/ Daily Schedule Pages
Monthly Project Planner
Daily Time-Blocking Planner
Daily Health & Wellness Tracker
Weekly review
Idea & Inspiration vault
Gratitude journal
Connection pages
Blank pages
Graph pages
Contacts
The Best Planner For Busy Women
These planners are perfect for busy women managing both their lives and the lives of their families. So if you're CEO of your family as well as your business then these are for you.
INSPIRE NOW JOURNAL
This planner is an excellent all-around planner for busy on the go women.
What's Inside:
Daily Productivity Journal
undated weekly pages
26 weeks daily pages
Goal Setting and Guide
Weekly Planning & Reflection
Daily Pages with Inspirational quotes and Gratitude
Health & Well-being Action Trackers
Self-Development Trackers
Financial Management, Fitness, Travel Planner, Project Management Pages
2022 STARTplanner Annual Dated
This planner is for busy women who want to plan their goals, spend less money, and organise your home.
What's Inside:
Goals Tab with Vision Board, Individual Goals, and Financial Goals
Plans Tab featuring Homelife Maintenance, Cleaning, Giving Back, Entertainment, Education, Vacation, and Holiday
12 Monthly Tabs Overview (Daily – Sunday Start, Weekly Monday Start)
Monthly Goals, Health-check, Projects, Cards and Gifts, and budgeting
Tear Out Grocery List for Weekly Meal Planning
A daily spread. The left features, gratitude, Prioritized to-do list, self-care, education, water tracking, sleep tracking, mediation, supplements, workout, and energy.
The right page includes the time for time blocking and meal planning featuring breakfast, lunch, dinner, and snacks.
Perfect Planner Family & Lifestyle Planner
This is a diary, planner and helper. It takes the stress away from your day.
The book focuses on how to manage your time, what kids do when they are not in school, holiday planning and budgeting. It focuses on you as a parent.
This is the perfect planner for the busy woman with a busy active family looking to increase time management, organise the kid's activities, plan holidays, Christmas planning and money management.
What's Inside:
Shows week across two pages
To-Do list, Activities reminders, Birthday reminders, Meal Planning…
Goal Setting, Mindset, Gratitude
Finance Sections and Planning
Party Planning and Organising
Christmas and Holiday Planning
Monthly and Weekly Planners
Motivational Quotes and Top Tips
and so much more…
Best Goal Setting & Productivity Planners For Women
All planners help you be more productive. They can help you stay organized and get your work done. I have mentioned several planners that are good for getting organized. But there are also planners that are all about helping you achieve your goals.
16: BestSelf Self Planner
This six-month life planner is designed to help you manage your time and plan your life. And because it is undated you can start anytime.
What's Inside:
Quarterly Reflection
6 Month Bucket List
Monthly Habit Tracker
Weekly Time-Blocking
6 Project Plan Sheets
2022 Entrepreneur Business & Lifestyle Planner
This is the most useful business planner available today. Businesses are now more likely to be run online, so this planner can also help you with that. It includes a Guidebook that will assist you in being organized and productive. It may help you maintain control of your business.
What's Inside:
Goal setting
Mindset
Gratitude and Meal Planner sections
Customer
Prospect Trackers
Team Activity and Volume Mapping.
Business and Habit Trackers
Social Media Planner
Monthly and Weekly Planners.
Motivational Quotes & Top Tips and so much more…
Boxclever Press Undated A5 Goal Planner
Undated planner to help you make changes. Today, think about what life will be like when you have accomplished your goals. What would you do with your time?
This undated planner is split into quarters, breaking down each goal into achievable milestones & weekly action steps. With weekly diary pages, to-do lists & habit trackers.
What's Inside:
Month at a Glance
Vision Board
Goal setting
Goal Tracking
To-do Lists
Monthly Review
Goals & Projects
Goal Crazy Undated Planner
GoalCrazy is a planner that will help you achieve your goals. Do you have big goals and dreams? This life-changing journal will give you the structure that you need to achieve your goals as well as giving you a simpler way to organise your day.
What's Inside:
Morning Prep
Evening Review
Weekly Goal Planning Pages
Monthly Goals
Monthly Reflection
Monthly Overview
Planners to Stay on Track
It's important to keep your life organized and on track. If you're looking for the best planner to help with this, I've compiled a list of what are considered some of the best planners out there in 2022!
I've taken all of your needs into consideration and have found a variety of planners that will work wonders in helping you achieve those goals throughout the year.
Whether it be an at-a-glance weekly or daily planner, an overarching business plan or goal setting & productivity planner, we know what takes to make sure this new year brings success on every level.
With these planners, there's no more need for frustration when trying to find out how to stay organized and reach all of your goals with ease!
I hope that our recommendations can assist you in finding the perfect planner for you!